RFID Locks are great options for Cabinets, drawers and doors when you need a more sophisticated system for keeping track of entries and enabling wireless entry into space.

Today we'll be reviewing the Best RFID Deadbolts and locks as well as their capabilities, which are all slightly different, and see which one would be best for your application and needs.
Continue reading so you will know the best ones that are available.
Here are the Best RFID Locks for Cabinets, Drawers, and Doors:
WOOCH Electronic Cabinet Lock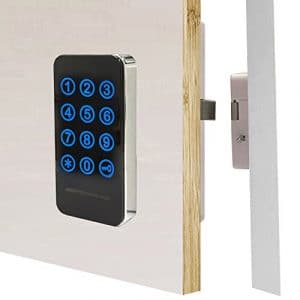 The electronic cabinet lock by Wooch has a sturdy and compact mechanism. It has mortise and latches made with metal that can be sufficiently sturdy for any cabinet type and build. You don't need to touch the cabinet door to unlock the device, as it comes with portable RFID tags or cards that you can easily store.
Product Features
Has a key for numerous locks – Since RFID locks can be programmable, you can use one RFID key if you want to have more than one cabinet lock unlocked. It would be best if you had the key programmed into the locks to test it before it gets installed.

Great for wooden cabinets – RFID cards can penetrate through thicker panels of wood that can reach up to 38 mm. It can fit doors that can get up to 1.2 inches thick. This is ideal for safes, gun boxes, data racks, medical carts, cupboards, lockers, and cabinets.

A great DIY for anyone – The kit has a User Manual, Installation Template, and Double Stick Tape. Instead of the alkaline batteries, you also have the option of using a USB power adapter instead. Provided in the kit is a USB cable, but you'll need to find a standard USB power adapter to use with the USB cable, as it does not come with one.

Auto-unlock and low power alarm – After setting up and programning the lock, the device will indicate low-battery status as needed with an extended beep after it gets opened. You can use the lock for about 15 times after hearing the long beep. When the Batteries end up becoming too weak to operate, the door will automatically open. When this happens, you'll need to replace the batteries before you can use the lock again.

WOOCH Lock Kit Electronic Cabinet Set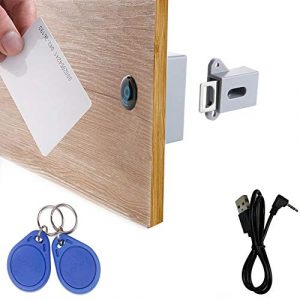 Wooch has created an electronic cabinet lock with a Wristband or RFID Card Entry, Password Entry, Keyless Lock Door Knob, and a Digital Touch Keypad Lock.
This is a great Kit for ensuring your items have added protection, security and privacy with the option of quickly opening with an RFID enabled keychain or card.
Product Features
The set has Installation and User Manuals on the listing's detailed page on Technical Specification. Included in the package are one user manual, six screws, one tag or bracelet, one panel or keypad, and one mortise.

It comes with multiple modes to unlock including a household mode with fixed numerous passwords. The public locker has the one-off password mode. Also included are the Tag, RFID Wristband, ID Card, and the tag with the password combination.
This Lock Kit can be used for a multitude of devices and storage items including some of the following:
Storage Box,

Drawer,

Locker,

Cabinet and More!

Armstrong
Reinforced RFID Concealed Lock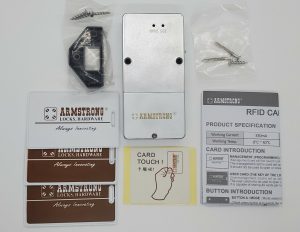 Easy to have this installed on any wood Cabinet panels that have a thickness of around 3/16 of an inch.
Product Features
It comes with a couple of user cards as well as a management card. Every lock can recognize and store a maximum of fifty user cards.

An enclosure case with a wide bolt and made of aluminum reinforces this.

Three AAA batteries power this with a lower battery alarm to unlock whenever the battery becomes completely dead.
Tokatuker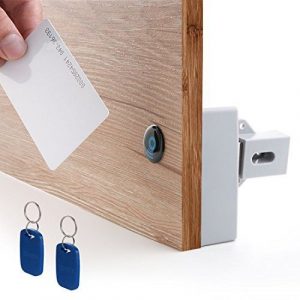 This lock has an anti-peep password that allows the user to have any number of random numbers typed in.
You can still access it as long as you embed the correct password in the extended set of numerals.
Product Features
It comes with one user manual, two ID tags, one package, one keypad panel, and one mortise.

For backup, the RFID Card or tags can allow you to have them opened with a password. You can use them for your storage box, locker, drawer, or cabinet.

In case of emergency, it comes with backup power. The keypad has a USB port that you can use whenever the batteries die.

The touchable keypad with a backlight for passwords performs better and avoids issues that can happen whenever physical buttons get unstuck. It has a blue backlight that allows for the convenient entering of passwords whenever it is dark.

GHG 
Greenhouse Grind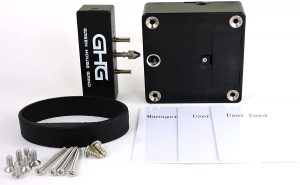 Here is an RFID Drawer Lock Kit that is best for any hidden compartments, gym lockers, shop displays, and cabinet drawers.
This RFID lock can be easily mounted inside of furniture drawers or cabinet doors unseen to the eye.
Perfect for hidden compartments or shop displays and unlockable via the included user cards/ silicone wristband.
RFID cards easily access the sensor through up to 1.5″ of hardwood or glass.Choose between four AAA batteries or a 5V power adapter to power the unit.
Batteries provide a working battery life of up to 50,000 cycles.
Product Features
Accessible and includes one silicone wristband, two RFID cards, and a user manual.

Has the size of 3.149″x3.149″x1.070″

Requires four AAA batteries, but it is not included.

AGPTEK Door Access Control System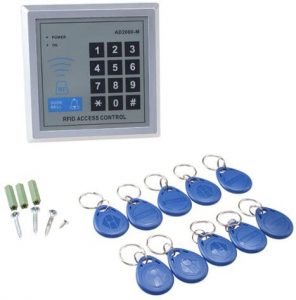 It comes with an Electro-magnetic Lock with a holding force of 130 pounds, an Entry Keypad for the Proximity Door, a Power Supply, 10 Key Fobs, and an EXIT button.
The access controller of this RFID Proximity makes use of the proximity system that is among the control systems for modern access that is designed for door & home security.
Integrated circuit and a state-of-the-art CPU ensure that all data is not lost in event of power failure.
The kit for the door access control system of AGPtEK is powerful due to the fact that the door opens with the use of passwords, proximity cards, or a hybrid of it.
Product Features:
Professional Design ensures that the control systems' security access is excellent in providing your office and home with State of the Art security.

Since the same key sets the door lock, it is excellent for the entrances and exits of schools, hotels, factories, offices, multi-family houses, and apartments.
ETEKJOY 4-in-1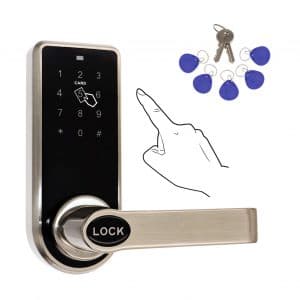 This lock has an intelligent design and sturdy mechanism because of its hidden mechanical keyhole, touch-sensitive keypad, backlight, RFID sensor in 13.56MHz, and frame in aluminum alloy.
These features make the lock appear modern, safe, elegant, solid, and durable.
Product Features
Batteries can last for 10-15 months.

You can unlock it in four ways: Mechanical key, an RFID Tag or Card, a password, or through fingerprint. You can freely delete or add cards, passwords, or fingerprints. You can have one admin password set to ten guest passwords, sixteen guest cards, and fifty fingerprints.


It has a Reversible Lever that can fit both right-handed and left-handed doors. You can have the handle direction set according to the door that you have.

It can fit any interior door like the single standard latch door that has a thickness between 40 to 60 mm and an adjustable backset of 2-3/8″ or 2-3/4."
UHPPOTE 125KHz Keypad Stand-alone RFID EM ID Door Access Control Kit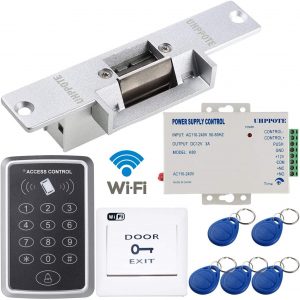 Product Features
Capable of supporting 1000 users with a PIN, Card, or Card + PIN

You can have it used as a standalone keypad as it can work alone and doesn't need to be connected to a computer.
MENGQI-CONTROL Metal Waterproof RFID Keypad Door Entry System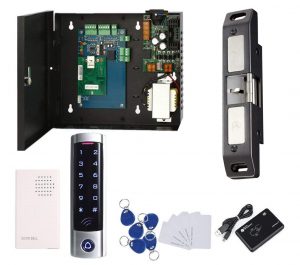 Product Features
It is a standalone device that you can easily program with a video guide, detailed wiring diagram and a keypad.


A waterproof structure on its metal control device is strong in adaptability and conforms to the IP68 degree.

Because of the lock relay output, you can have a standard or secure mode, Wiegand 26 input/output, and NO / NC output. 

It can support two thousand users through PIN Code, Card, or PIN Code + Card. The card compatible with this is the EM Standard card as it cannot support encrypted cards like APCiK, Cobra, HID, and others.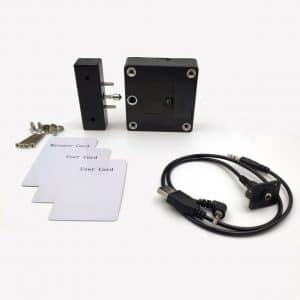 Features of the Product

Up to fifty user cards and the ability to have the user card set up for multiple locks.

It can fit a non-metallic panel made of fiberglass or wood with a thickness of 3/8 to 1-1/2 inches.

Public to Private modes and works on NFC frequency of 13.56Mhz.

4x AAA batteries power this unit and it has a low battery alarm as well as a lead for the emergency power cable.