Most new cars come with a factory (oem) smart key and most of the time you are able to enter and even start your car without even taking the key out of your pocket. These are also known as a proximity key.
Gone are the days where you have to dig through your purse or pocket to unlock your door or start our car. But believe it or not, these smart keys make it much easier for thieves to steal your car.
With the invention of RFID Repeaters, many crooks just stand next to a purse or home window and repeater the signal of your key to copy the information, unlock your car and steal it.
Faraday Key Bag or Box to Protect Signal
This is why we recommend that get an RFID Key Fob Protector, as known as a Faraday Bag or Box to Protect the frequency of your Keys.
A smart key uses a unique frequency to communicate with the car, and tech-savvy thieves can use a relay attack device to replicate that frequency.
Once copied, the thieves simply place the relay device near your car to emulate the presence of the key, open the door and drive off, with no smashed glass, car alarms or complex ignition systems to worry about.
This is more common than you think and it can cost thousands of dollars to recover and repair a stolen car.
A Faraday bag or Box eliminates the risk of your car being stolen in this way and it is a small price to pay compared to your car being stolen.
Faraday Box or Bags run from anywhere between $10 – $35 and are highly effective at isolating your keys and their frequency so that they can't be transmitted or copied.
A Faraday bag also works with smartphones and credit cards.
There are many Faraday Box's and Bags on the market and in this article we are going to share the best of the best.
Here are the Best RFID Key Fob Protectors of 2023:
Disklabs Key Shield Faraday Bag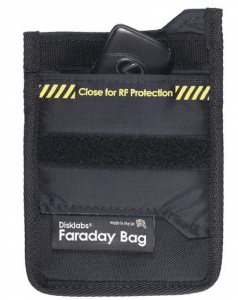 This Disklabs Faraday Bag has been awarded the Police Approved "Secured by Design" award, and is the only Car Key Fob Faraday bag in the UK to gain Police Approval.
This Key Shield is used for blocking all signals getting to the device inside the Faraday bag.
All Disklabs Faraday Bags are made in Britain from high quality materials to ensure they block All Wireless Signals including WiFi, 5G, 4G, 3G, 2G, GPS, Bluetooth, Radio, NFC etc.
Dimensions:
4.53 x 4.53 x 0.39 inches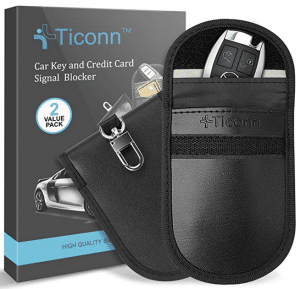 TICONN Faraday bag is constructed of premium PU leather and two-layers of shielding materials to provide signal blocking functions as well as a luxurious fashionable appearance.
TICONN faraday bag provides a complete signal blocker for your vehicle key fob.
They stand behind their product with a 30-day money back guarantee and lifetime warranty.
Dimensions:
3.5″ x 5.0″
MONOJOY Faraday Bag for Car Key Fob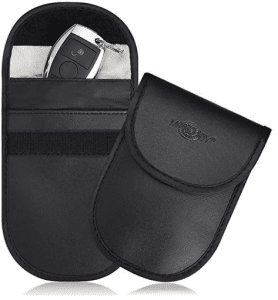 The faraday bag pouch effectively blocks the signals from auto keyless entry fob – could not open your cars nor start them with key fobs in the pouch and it is closed.
The MONOJOY Farday bag is a universal fit for all cars.
Dimensions:
4 in W x 5.5 in L
Todoxi Faraday Key Fob Protector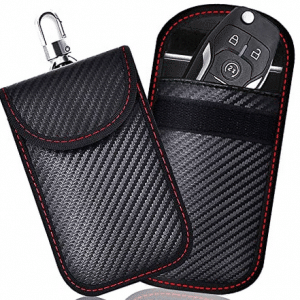 Todoxi faraday pouch effectively blocks all signals in the bag which prevent criminals from using skimming tools to access your vehicle.
The Todoxi faraday key fob protector has a carbon fiber surface and compact size.
They offer a 30-day money back guarantee and lifetime warranty.
Dimensions:
5.2 x 3.7 x 0.8 inches
FANACAN Car Key Signal Blocker Pouch 2 Pack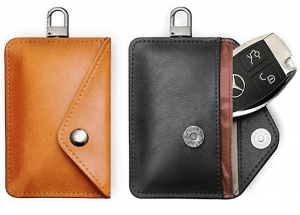 The FANACAN car key signal blocker is made with a 1 to 2 layer structure, the interior of this product is layered with high quality radio wave prevention fiber in 3 layers.
High quality leather is used for the exterior, and it is fashionable while being waterproof and abrasion resistant.
Dimensions:
6.06 x 4.02 x 0.87 inches
Final Thoughts
Any of the products listed in this post are going to be effective at protecting your vehicle from being stolen.
Every 36 seconds a car is stolen in the United States, which is close to a million vehicles per year!
Don't be the next victim of car theft and protect yourself today. We've found the Best RFID Key Fob Protector to Block the Signal of your Keys from thiefs – We cannot stress enough that these are so crucial to employ if you have a newer car with a Key fob.
Good luck!