An infrared thermometer is an easy-to-use instrument that can quickly and accurately measure how hot or cold a surface is without the need to get in touch with the object.

Since these thermometers are non-contact, they can be ideal in taking temperature spot checks from a distance when you can't use the conventional thermometer, such as probe thermometer.
Infrared thermometers come in handy in many situations such as making sure that your grill plate has the ideal temperature, checking HVAC equipment, monitoring food compliance with safety standards, diagnosing automotive issues, and taking someones body temperature.

In many situations, having an infrared non-contact thermometer can be pretty valuable whether you love to cook and grill with high precision at home, want to spend time maintaining and fixing your machinery, or using it out in the field on the job.

Our team of experts have done some independent research and testing to recommend the best infrared thermometers on the market. 
In this article we will cover the top infrared thermometers and why we chose them and where to buy them.

Here's the Best Infrared Thermometers of 2023:

Here is our list of the best infrared thermometers to help you select a model that is most suitable for your desired application and available budget: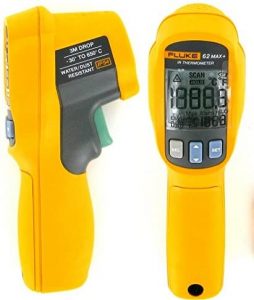 Here is an infrared thermometer that can handle any scenario you throw at it from HVAC, electrical, mechanical, or automotive maintenance and repairs.
Because of its ease of use, size, and precision, it will allow you to get around any tight or compact space.
It can successfully measure how hot or cold vents, ducts, valves, steam lines, compressors, transformers, motors, panels, pumps, and breakers could be.

This unit is durable and reliable as it underwent drop testing up to three meters, making it sufficiently robust for any kind of workspace.
Aside from that, it is IP54 rated which certifies that it is resistant to both water and dust.
You can also use a carabiner to have this model clipped to a storage place or tool belt.
The Fluke MAX 62 Plus' dual lasers can make sure that your measurements are precise as it helps identify the measurement area's edges.
Once it takes a reading, a backlit display will show the lowest and highest reading, including the median temperature and their difference.

Since it comes with a big LCD screen, it can be easy for anyone to read the data even if the area is dark.
The model has adjustable emissivity with a distance of 12:1 that can spot the D:S ratio.
It comes with a measurement range for the temperature from -30°C up to 650°C or -22°F up to 1202°F. It is ± 1% accurate within the range 0°C up to 650°C .
For any user who would need to professionally use a model that is of industrial-grade in their work or want to have an accurate and durable infrared non-contact thermometer for use in their home or office, we highly recommend Fluke MAX 62 Plus.
Core Features
Has ± 1% accuracy with a 12:1 ratio of distance to spot

Adjustable emissivity

It comes with dual lasers to ensure that the measurements are accurate.

Powered by only one AA battery

It has a large LCD screen with backlighting which allows the data to be read easily.

It comes in an ergonomic design that can fit comfortably in any person's hand.

Robust as it is drop tested for 3 meters with IP54 water and dust resistance.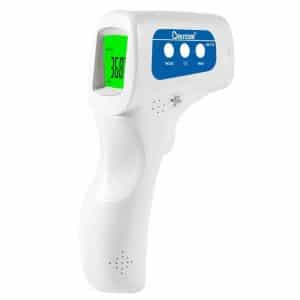 Since the infrared JXB-178 forehead thermometer by Easy@Home is a digital medical-grade thermometer, it is clinically accurate with a design that can quickly and safely get the temperature of any child or adult's body using infrared no-touch technology.
It can be easy for anyone to use the forehead thermometer JXB-178.
You just need to power the device on and have it pointed at anyone's forehead at around 3 to 5 cm or 1.2 to 2 inches away.
Then, if you want to have a measurement, you just have to pull the trigger.
In just a second, it will display the temperature on the backlit screen.

This device features an easy to see backlit screen with three color options and an audible alarm for fever.

Whenever it senses that the temperature is average, it will turn green.
If a fever is detected, the screen will turn red.

For a low-grade fever, it will become orange.
Since the forehead thermometer JXB-178 doesn't require any physical touch or contact, it is perfect for screening temperatures whenever hygiene and safety are vital.
Having a JXB-178 at home, schools, businesses, offices, centers for physical examination, and warehouses can help identify those that could possibly be infected and prevent the spread of further infection to others.
This thermometer is a Class II FDA-cleared medical device that the Illinois-based American company Easy Healthcare Corporation supplies.
This business has an excess of eighteen years of experience in drug and fertility tests.
The forehead mode has a range of operation from 32°C to 43°C or 89.6°F up to 109.4°F with an accuracy of ± 0.6°F or ± 0.3°C.
Included in the device is the surface mode that measures the objects' surface temperature and room temperature.
It saves the last thirty-two readings so you can easily recall them and can switch from °F to °C.
Since it also comes with a mute setting, it won't disturb any sleeping child whenever you check their temperature.
For all of these reasons, the FDA clears JXB-178 as the best infrared medical thermometer.
Aside from that, it can be straightforward to use as it provides highly precise one-second readings.
Core Features
A medical device that the FDA cleared under Professional Class II

Reads temperature with no-touch in 1-second 

It comes with a fever alarm and a tri-color LED-backlit display that can easily read temperatures.

Has an accuracy of ± 0.3°C or 0.6°F

Can turn off automatically after thirty seconds

Works to store the last thirty-two readings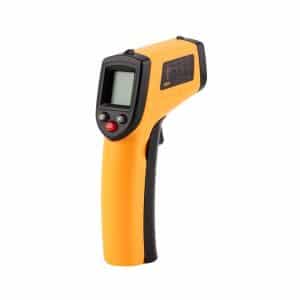 Etekcity's 1025D laser temperature gun is different than other infrared thermometers available on the market because of its high voltage detection that can provide protection whenever you work with electrical systems.
This built in mechanism allows you to test live AC voltage before you touch anything – you simply put the device in NCV or non-contact voltage mode.

Even if the voltage levels may not show specific readings, the display screen has lines that will show you an approximate reading of the voltage level that is low versus high.
Once you hear a steady beeping sound, you can have the infrared temperature gun moved to locate where the maximum voltage came from.
With its backlit LCD screen, it will show the dual lasers' temperature readings that are capable of measuring a range of -50°C to 550°C or -58°F to 1022°F.
Because of the adjustable emissivity of the laser thermometer, it can make you highly accurate in your measurements, whatever kind of surface you work with.
Included in this model is a 9-volt battery.
Because of its indicator for low battery and functionality that can Auto-Off, it can help you save money.
Core Features
It has a ratio of distance to spot that is 12:1

Because of its NCV or Non-Contact Voltage mode, it can detect any live electrical current

It comes with the function that can automatically hold data

With adjustable emissivity

Available with a one-year warranty that you can opt to have it extended for an extra year for free

Includes a battery

It has a indicator for low battery and the function Auto-Off that can preserve the life of your battery.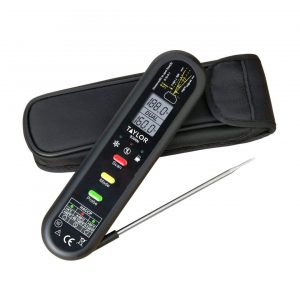 Here is the Dual Thermometer by Taylor Precision Products.
It is best for cooking as it has both an internal probe and the device known as an IR thermometer.
Without any accompaniment, infrared thermometers are only capable of measuring the surface temperature and not the internal temperature.
It is recommended that the foods internal temperature be taken to ensure it is safe to eat.
Because of the dual capacity that the Thermocouple by Taylor Precision Products has, it is highly versatile in helping with roasting, grilling, precision baking, and sous vide.
The probe can measure up to 626°F, while the thermometer comes with a -67°F up to 482°F temperature range.
In addition, since it has an IR thermometer with emissivity that is adjustable, it can be vital in measuring any surface that is full of oil.
With this model is the feature automatic shut off that can help preserve the battery life.
This model takes AAA batteries with one set being included with your purchase.
It can be essential to have in the kitchen as it is splash-proof and comes in a compact size of 2×9.1×5.1 inches with a weight of just 4.8 oz.
The compact size makes it convenient and can comfortably fit within the apron or pants of any chef.
Core Features
Has adjustable emissivity

With its thermometer in dual-action, it can measure the temperature of both the internal food and the surface.

Preserves battery life with its feature that can automatically shut off

It comes with a couple of AAA batteries

Because of the high-temperature reading capacity of the probe, it can measure a maximum of 626° Fahrenheit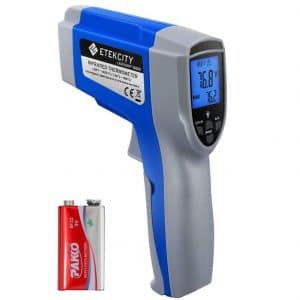 Allow yourself to get the best value for your money with Etekcity 1022D's non-contact thermometer.
It has many of the same features that its competitors have but at a lower price point.

Because of the wide range of measurements that this laser infrared thermometer has for lower temperatures, it can be ideal to use this in cold places or freezers.
It has a measurement range of -50°C to 550°C or -58°F up to 1022°F with an accuracy of ± 2%. Employed by Etekcity 1022D are Class 2 dual lasers that can help you get precise measurements.
If you want to get the most reliable reading, we advise that you do it from a distance of 36 centimeters or 14.17 inches from the object or surface that you want to measure.
Doing this will allow the two lasers to overlap so you can get the best results.
In addition, you can get the results quickly as the device can have the readings displayed in 0.5 seconds or less.
Featured by Etekcity 1022D is adjustable emissivity that allows for various types of surfaces.
Because of Etekcity 1022D's backlit LCD, you can have it carried with you whenever you go to any dark space without having to bring a flashlight.
Moreover, because of the thermometer gun's automatic function for data hold, you will have sufficient time to record your numbers after taking your measurement.
Core Features
It comes with a ratio of 12:1 in distance to spot with an accuracy of ± 2%

Provides greater accuracy with dual lasers and adjustable emissivity

It has an LCD backlit screen that you can use in areas with low light

Allows results to retain after measurement with its automatic function for data hold

Includes a battery

Preserves battery life with its indicator for low battery and the function Auto-Off

It has a one-year warranty and provides you with the option to have it extended for another year for free.

Instead of just showing a particular area's temperature, the spot thermal FLIR TG195 camera displays the cool spots against the hot spots with a visual display that is color-coded and easy for anyone to read.
It can be useful to have visual infrared thermometers in scanning areas so you can immediately identify cold or hot spots like identifying the problems in HVAC equipment, appliances, and systems or sourcing an electrical breaker panel's hot spot.
This spot thermal FLIR TG195 camera is capable of measuring temperature from -25° to 380° in Celsius or -13° to 716° in Fahrenheit.
In itself, the camera has the Imaging Engine Lepton IR of FLIR that is innovative with a refresh rate of 9hz, 80×60 resolution, and sensitivity of 150mK.
You can have the images and data saved from its spot thermal camera to the SD or USB card.
With this, you can have them transferred to any computer so you can analyze them further or have them sent to another person.
The product also includes a USB cable and a micro 8GB SD card.
Since the device underwent drop testing to two meters, it is long-lasting and durable.
Moreover, people can intuitively use them as they are easy to transport and compact.
Core Features
Has a -13°F to 716°F temperature range

With a ratio of 24:1 distance to spot

Includes a USB cable and 8GB micro SD card that you can use to save data and images

The Innovative Imaging Engine Lepton IR of FLIR has a refresh rate of 9HZ, a sensitivity of 150mK, and a resolution of 80×60.

The parts and labor have a two-year warranty. It has an infrared detector with a guarantee of ten years.

Drop tested for two meters.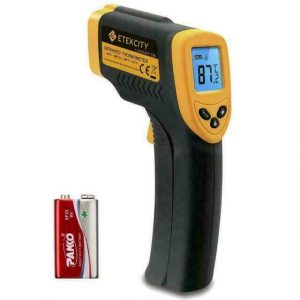 Lasergrip 774 is the Etekcity range's entry-level product that is the most affordable digital non-contact infrared thermometer.
This Class 2 laser temperature gun is capable of measuring temperatures from -50°C to 380°C or -58°F to 716°F even at a far distance.
The ideal distance to get the best accuracy is 26 cm or 14.1 between the object and the laser temperature gun. 
Whenever you have the temperature gun with infrared pointed and shot, the measurement will come up 500 milliseconds or less.
It will have the reading held on the LCD backlit display screen for fifteen seconds.
The fixed emissivity setting of Etekcity's Lasergrip can limit the device's accuracy on any reflective surface.
It includes a battery with 9-volts made of lithium-ion. Built into the device are other features that can monitor and extend the life of the battery.
Included here are the indicator for low battery and the function Auto-Off.
Since it is coated in UV paint, the model boasts an external casing that is quite robust.
For anyone on a budget, we recommend the infrared thermometer Etekcity 774.
Core Features
Has a temperature range of -58°F to 716°F

It comes with a ratio of 12:1 distance to spot

It has a 15-second function for data hold

With an LCD backlit screen that people can use in areas with low light

It comes with a one-year warranty that you can opt to have it extended for another year for free

Includes a battery and has an indicator for low battery and the function Auto-Off that can preserve the life of your battery.
Factors That You Need to Consider Whenever You Buy an Infrared Thermometer
There are several things to consider when purchasing an infrared thermometer and we will cover them in this next section.
Accuracy
Having precise measurements is essential, especially when working in a commercialized kitchen, when working with expensive machines, or in dangerous situations wherein accuracy can literally mean life or death.
For example, whenever you use a digital prototype in applications for food safety, it is vital to get accurate and specific readings every time.
Review the specs of your model.
You will get great results whenever it is more precise for the work you need to do.

Range of Temperature
Consider the temperature range that you would need for your application.
For example, if you only need a IR thermometer at home to measure the surface temperature of your air conditioner or grill, you wouldn't need an extended temperature range.
However, if you are planning to have your laser infrared thermometer used whenever you work in an industrial setting with motorized engines and machinery, it would be best to get one with a higher temperature range.
Ratio of Distance To Spot
In D:S or ratio of distance to spot is the distance between the IR thermometer and the surface you want to read.
For example, a model that has a D:S ratio of 12:1 will approximately measure a diameter area of one inch whenever it is a foot away.
Once you get farther away from your target, the measurable area of the surface will become more extensive.
This can have an impact on the accuracy of your readings if you want to only get the measurement of a small area.
As an example, if you want to have an area of 2-inches measured from a meter away using a model with a D:S ratio of 12:1, the results that you'll get will not be accurate.
This is because the thermometer would also have the temperature that is not within the area that is predetermined measured whenever  you want to.
So, in essence, the ratio D:S will allow you to have an idea of the best distance to get a precise reading.
Budget
Consider how often as well as the purpose of using a laser infrared thermometer.
The laser thermometer that is best for you may not be the one that is most expensive.
Ensure to consider the features that can provide you the best value before opting to decide on buying anything.
Emissivity
Involved in Emissivity is the surface's capacity to have thermal radiation emitted.
The 0.95 fixed emissivity settings are what infrared thermometers have.
These can take the readings of any high emissivity surface.
Because of that, the surface can be efficient in radiating the object's temperature.
It can be fine whenever you take the readings of surfaces in dark matte-like tiles, walls, or asphalt.
However, because of the fixed settings in emissivity, it can lead to problems.
It happens whenever you measure reflective surfaces that have low ratings in emissivity.
For example, polished metal can provide false readings whenever the emissivity settings don't get adjusted.
Adjustable settings in emissivity from 0.10 to 1.00 that a thermometer gun can feature can be more accurate whenever the thermometers get calibrated to the surface that you want to measure.
What Are The Uses of Infrared Thermometers?

You can use infrared thermometers to measure various objects' surface temperatures in different applications and industries such as:
HVAC

—Professionals in the cooling and heating industry use infrared thermometers to check equipment and diagnose heat-related problems with HVAC systems like malfunctioning coils, insulation problems, and duct leaks.

Automotive

—Automotive and mechanics enthusiasts can have digital thermometers for hot spot checks routinely performed on various components, including engine timing, radiators, tires, and brakes. Digital infrared thermometers can also help in troubleshooting overheating problems.

Cooking

—With the infrared thermometer gun, anyone can now verify if their stovetop or grill has the right temperature before they can place their baby back ribs on it.

Circuit Boards and Electrical Systems

— IR thermometers are used when working with electrical systems to check hot spots and prevent failure of equipment as you are diagnosing potential problems.

Manufacturing

—For manufacturing and industrial applications, people use infrared thermometers to monitor the quality assurance of products. They have routine audits in temperature performed with the equipment so you can schedule repairs and avoid expensive breakdown of the equipment.

Food Safety

—Food service managers and chefs who work in commercial kitchens use infrared thermometers to monitor the food continuously and ensure that the temperatures comply with food safety standards.

Home Use

—Having the IR temperature gun in your home has many uses, like checking for cooling, heating, and insulation problems. It can also check issues in crafting beer, making soap, working on cars, cooking on any grill, and a lot of other jobs in home improvement or hobbies that people love to do.

Medical

—Infrared thermometers are medically essential in measuring an animal or humans body temperature.
How to Use an Infrared Thermometer
Have the device turned on, and then choose if you want to measure your temperature in Celsius or Fahrenheit.
Carefully review the instruction manual so that you are familiar with your device's D:S ratio.
With this, you can be highly accurate when you take measurements.
In general, the closer you get to the surface, the more precise the measurement will be.

However, always remember that getting too close to any extremely hot object may be unsafe – use your best judgement.

Whenever you have a model with adjustable emissivity, have the emissivity changed to its optimal setting.
Allow the laser to guide you and have the thermometer pointed at what you desire to measure and then pull the trigger so you can view the displayed temperature.
Make sure to choose a spot that isn't too near to any object with temperatures that can be vastly different.
Avoid using your device whenever you want to measure anything that has shiny or highly reflected surfaces without having the emissivity adjusted.
Frequently Asked Questions on Infrared Thermometers
Question: What Is the Infrared Thermometer?
Answer: Infrared thermometers are instruments used to measure the temperature of a surface without coming into physical contact with said surface.
They work by inferring the temperatures that have basis on thermal radiation emitted by a specific object.
Once you know the emissivity of an object and how much infrared energy it is emitting, you can gauge the apparent temperature of the object.
Since the infrared thermometer is non-contact, it employs a laser that can help the users in aiming the thermometer.
That is why people sometimes refer to them as laser thermometers.
Infrared thermometers are used in industrial settings where accurate and fast temperature readings from a certain distance are required whenever the surface is not within reach.
For example, the probe can't get inserted into the item to be measured, or the temperature of the object is way too extreme to be measured at a close distance.
Question: How Does the Infrared Thermometer Work?
Answer: The infrared thermometer can work through a lens that focuses on the light that comes from any object.
This light is in the form that people call infrared rays. It funnels into a detector that they refer to as a thermopile.
Inside the unit, the thermopile works to absorb IR radiation and then allows it transform into heat that eventually converts into electricity.
It then works on measuring how much electricity is generated and then displays it on the thermometer's screen.
Question: What Are The Temperatures That Infrared Thermometers Measure?
Answer: IR thermometers are capable of measuring temperatures in a range from too high to below freezing point.
The available range when it comes to temperature measurements would depend on every specific product.
As an example, we recommend the Fluke 62 MAX Plus.
It can measure a range of -30° Celsius to 650° Celsius or -22° Fahrehheit to 1202° Fahrenheit.
It comes with an accuracy of the reading at ± 1.0% or ± 1°C from 0°C to 650°C.
The laser infrared thermometers that are more expensive come with a greater distance and a more extensive measurement range that can spot ratios.
Question:
What is the Accuracy of Infrared Thermometers?
Answer: As a conveniently accurate instrument, the infrared thermometer can quickly measure the temperature of any surface.
The IR thermometer has an accuracy specification that would depend on the individual model.
A lot of the infrared thermometers have a ± 2.0% measurement error.
If you want to have the readings by the IR thermometer's accuracy dictated, you need to have a couple of other factors considered.
These factors include the target's emissivity and the IR thermometer's D:S ratio.
Question:
Can it be Possible to Use the Infrared Thermometer Whenever You Are Cooking?
Answer: Since IR thermometers can only measure the temperature of a surface, they may not be accurate in gauging the food that you are cooking's internal temperature.
Yet, it would be beneficial to have the infrared thermometer gun to measure your barbecue grill, skillet made of cast-iron, pan, or hot oil's surface temperature.
Always remember that whenever you take the grill's temperature, the temperature of the surface that you can see when you check the grate will be factored in.
If you need to have a reading that is accurate, you must have surface that is solid like a skillet or a plate made of cast iron placed on the grill then preheated for five to ten minutes.
After that, make sure that the surface is sprayed with some cooking oil so you can check the right emissivity then start taking the temp.
Question:
How Can You Have an Infrared Thermometer Calibrated?
Answer: It is vital to regularly check your measuring instrument's accuracy to make sure that you have a device that works properly.
A great way to have any infrared thermometer calibrated is to use the comparator cup for infrared.
The comparator cup can provide a base in solid black matte with a great rating for emissivity to see if your readings will be accurate.
You can have the cup used whenever you need to have the measurements compared from the calibrated reference thermometer and infrared thermometer.
Conclusion
As you can see, having an infrared thermometor around can be quite helpful in many different scenarios in any household, commercial kitchen, factory floor, or workshop.
It can quickly help measure the surface temperatures from a certain distance safely and accurately.
For professionals, among the highly recommended infrared thermometers is Fluke 62 MAX Plus.
It is a robust and accurate all-rounder that has a D:S ratio of 12:1, a broad range of measurement, dual lasers, and adjustable settings in emissivity that can help in pinpointing the measurement area's edges.
Since it is built to be capable of withstanding a drop of three meters and has the IP54 rating for resistance against water and dust, you can depend on the Fluke 62 MAX Plus. in providing accurate measurements, even if you are on the dirtiest or toughest job site.
In case you want an affordable model that you can use in your vehicle or home, it would be best to get the 1022D Digital Dual Laser Infrared Thermometer by Eteksity, as this is the option that can give you high quality value for your money.
Know Everything About the Infrared Thermometer with 
IRDA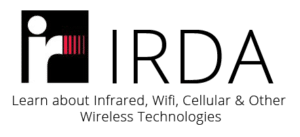 Allow IRDA to provide you with the best information on WiFi, 3G, Radio Frequencies, and Infrared Technologies
Our team of Tech Engineers and Electronics Technicians believes that people must be able to use any electronic device and appliance in a safe way.
Because of that IRDA is a group that is committed to providing people with thoroughly researched and highly informative information about Electro-Magnetic Fields, WiFi, Electronics, and more!
If you need our professional assistance, make sure to contact us!